BiTE (Bispecific T cell Engager)
BiTE is the bispecific antibody designed to target CD3 and tumor-specific antigens simultaneously. Thus, BiTEs can redirect T cells to specific tumor antigens and activate T cells to kill tumor cells. While CAR-T therapies rely on ex vivo activated and expanded T cells, BiTEs count on the patient's endogenous T cells to destroy tumors.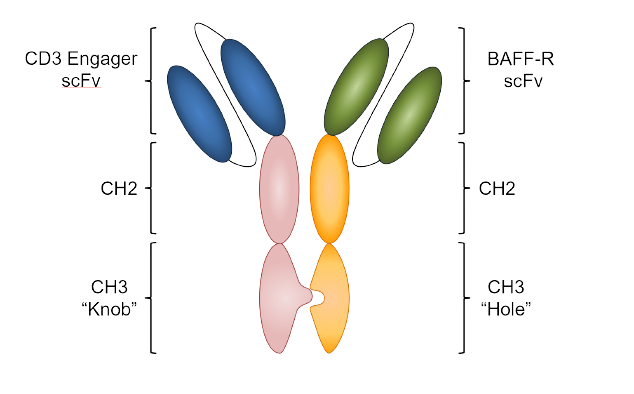 The BAFF-R BiTE was developed with anti-CD3 and anti-BAFF-R scFv antibodies using "knobs-into-holes" technology. PeproMene licensed this program from City of Hope in 2019. Our preliminary data of BAFF- R BiTE showed its in vitro antigen-specific binding and cytotoxic activities, as well as in vivo eradication of established tumors. Further effort t to optimize BAFF-R BiTE are currently ongoing.
BAFFR T Cells Clinical Trials
In sed lorem erat. Sed lacinia auctor ante eget molestie. Proin laoreet neque vel magna dapibus pretium. Nam dictum nisl augue, in imperdiet nisi viverra vel. Suspendisse id tellus sit amet arcu luctus efficitur vel vitae neque. Nam dictum felis placerat, bibendum justo nec, bibendum augue. Nam pellentesque ante ante, elementum consequat ipsum laoreet vel. Integer pulvinar suscipit justo, vitae tempus purus fringilla ac. Aenean luctus iaculis odio vitae facilisis. Aenean bibendum ipsum nec diam tincidunt commodo. Duis in ligula ornare, semper nisl eget, scelerisque ligula.